Minelab Go-Find 66
Step up the power and performance. With precision control and maximum depth, hunt like a pro in no time.
Superior Performance
Advanced technology and innovative features for performance to the MAX.
Compact & No Assembly
It's easy. There's nothing to assemble and no loose parts that can get lost.
Ultra Lightweight
At only 2.3 lbs (1.06 kg), it's the lightest high-performance detector available.
Easy-Track Automatic
Auto ground-tracking reduces noise interference and maximizes target signals.
Treasure View
Red = iron targets, likely trash. Green = non-iron targets, possibly treasure!
Know treasure from trash.
GO-FIND's Treasure View feature lights up to tell you what's trash or treasure down there. Get red LEDs, you've most likely found a nail or a key. Get green LEDs and you've found coins or jewelry. Dig away. 
The Details
Advance your hunting to the next level. GO-FIND 66 is a serious, high-tech detector. It delivers precision, performance and maximum depth to unearth more treasure. Packs in a load of excitement and adventure, too. Hunt like a pro today.
Portability Collapsible Body
Volume 5 Volume Levels
Batteries 4xAA Batteries (not inc.)
Waterproof Waterproof Coil
Weight 2.3 lbs / 1.06 kg
Length Collapsed 21.9 in / 555 mm
Length Extended 51.4 in / 1305 mm
Find Modes 4
Search Coverage Large (10-inch coil)
Sensitivity 5 Levels
Treasure View 5 LEDs
Display Backlit
Smartphone App Pro Version
Pinpoint Technology Yes
Bluetooth Yes
Smartphone Holder Yes
Digging Tool Yes
Earbuds Yes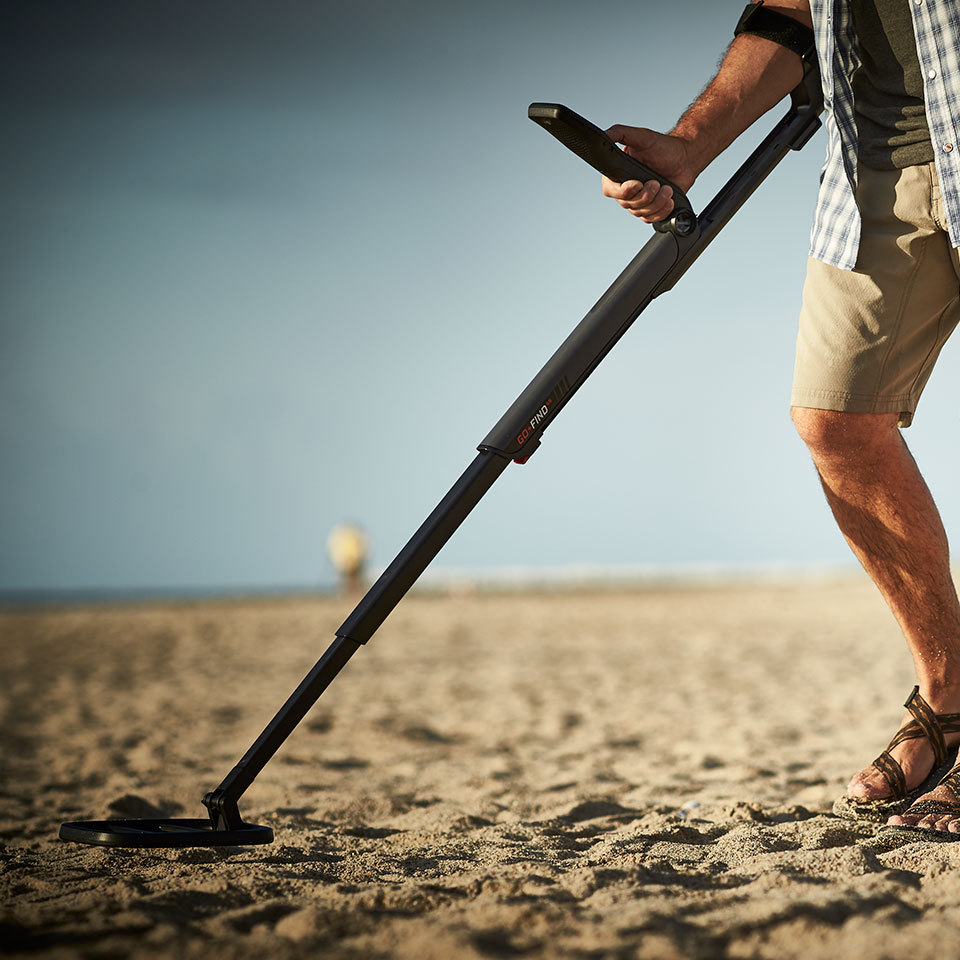 Three new models are now available – the GO-FIND 22, 44 and 66, which will replace the GO-FIND 20, 40, and 60 models. New GO-FIND Series models have been designed with increased sensitivity so that targets can be identified at greater depth when compared to the original GO-FIND Series models. The new models are constructed using the same proven collapsible, lightweight platform and feature the same easy-to-use consumer interface which the original GO-FIND Series successfully brought to market in 2015.
Waterproof 8" Coil
2x Protection Skins

Waterproof 10" Coil
2x Protection Skins
Backlight
Pinpoint Mode
Smartphone App

Waterproof 10" Coil
2x Protection Skins
Backlight
Pinpoint Mode
Smartphone Pro App
Additional Accessories Included

Security policy: All our Minelab products are genuine. We are Minelab Hong Kong agent and we do not sell counterfeit products.
Delivery policy: We do not ship any of the Minelab products due to our agency agreement. All detectors must be picked up from our Hong Kong warehouse

All Minelab products enjoy full Minelab warranty upon registration